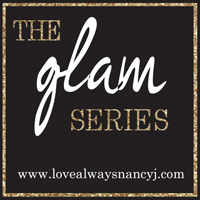 Today's Glam Series focuses on hair. I will say that I struggled with fixing my hair for a long time, but I can point back to a few things that turned into absolute GAME CHANGERS!!


ONE
My sweet friend and stylist Ashley
Having a stylist you trust completely is essential. It means the absolute world to me that I can bring Pinterest ideas of styles I love and she is able to create them to perfection. Not only is she incredibly skilled in her craft, she is also able to easily communicate the steps I'll need to take each day to recreate the look. She always makes sure the styles will work with my hair and gives me great recommendations for fantastic products. She saw me through each step of the way when I was figuring out what kind of style I wanted for my wedding and it means the world to know that my hair is one thing I am never worried about when I am in Ashley's capable hands! Also, you can tell she loves what she does and I think that makes a huge difference, too!
TWO
Kenra
Once Ashley introduced me to these products, I found I was able to style my hair with the volume and look I had always hoped for!
from l to r:
Kenra Root Lifting Spray
: I spray this amazing product at the roots of my hair after I've towel dried it. It makes a huge difference in the volume department when I style my hair the next day!
Blow Dry Spray
: Due to some fantastic genetics, I have grayed early and choose to color my hair. :) While changing up my look with color and highlights is so fun, it does cause my hair to be a little more fragile and this blow dry spray protects my hair from the heat of the dryer and helps it to dry faster, so I don't have to use the dryer as long!
Dry Shampoo
: This product is so great in a pinch if I don't have quite enough time to shampoo my hair, but need to freshen my look. I'm so thankful for whoever invented this product! It also helps give good volume.
Volume Spray 25
: This spray offers fantastic hold to your style without it feeling stiff. I always love using it.
Another necessary product for me is
this one
. Of all of these, this one provides the greatest volume at the time I am styling my hair. You just put a little of this powder at the roots and tease away!! It holds up great throughout the day and gives my style the oomph it needs, especially on humid days!!
I use a flat iron most days and Ashley referred me to a great spray that protects your hair when using hot tools either flat irons or curling irons. I can't remember the one she told me about, (it might be
this one
) but I feel a little better using all the heated tools when I use this spray. :)
THREE
Kate from The Small Things Blog
is my other invaluable resource. Her hair tutorials have taught me so much about hair techniques and products that I can honestly say they have changed the way I do my hair!! If you have not seen her website, please go immediately! She has an amazing stock of hair video tutorials of all different styles. From curling to teasing to updos and everything in between, she offers amazing tips that have definitely helped me so much!
This tutorial
was the first one I saw through a Pinterest link and I use these tips all the time.
Just looking back through her
hair tutorial list
makes me want to try some new ideas and retry my favorites! I never thought I could do a cute updo before I started watching these tutorials and sometimes I am amazed at the styles I can actually accomplish!
FOUR
Thanks for hosting us,
Jordan
!
What are your favorite hair tips?