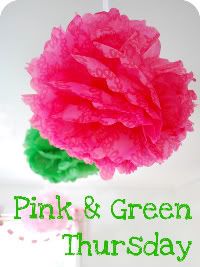 Hi Friends!
First of all, thanks for all the fun birthday wishes to my mom! I had so much fun sharing them with her!! :) Today, I thought I would link up with
Trish's
Pink and Green Thursday party because I have a fun newly acquired pink accessory that I want to tell you about. :)
My friend Amy gave me this adorable watch and told me the story behind it. She got it from
http://hello-somebody.com/
. This website sells items like watches (you can buy other bands and change the colors), t-shirts, bracelets, necklaces, and music, and the money you spend goes to feed orphans. On the home page there is even a counter, so you can see how many meals have been provided. I thought that was a pretty amazing ministry and wanted to pass the info along to you. Thanks, Amy, for this sweet gift!!
In other news, I just downloaded the Droid version of instagram on my phone and am loving it!! It's called photo effects. I even used it for this little picture above! :) Hope you all have a fabulous Thursday!!